Join the COVID Community Corps
The COVID Community Corps (CCC) trains trusted community members to educate and deliver COVID-19 vaccination information and navigation support to underserved communities in the State of New Jersey.
COVID Community Corps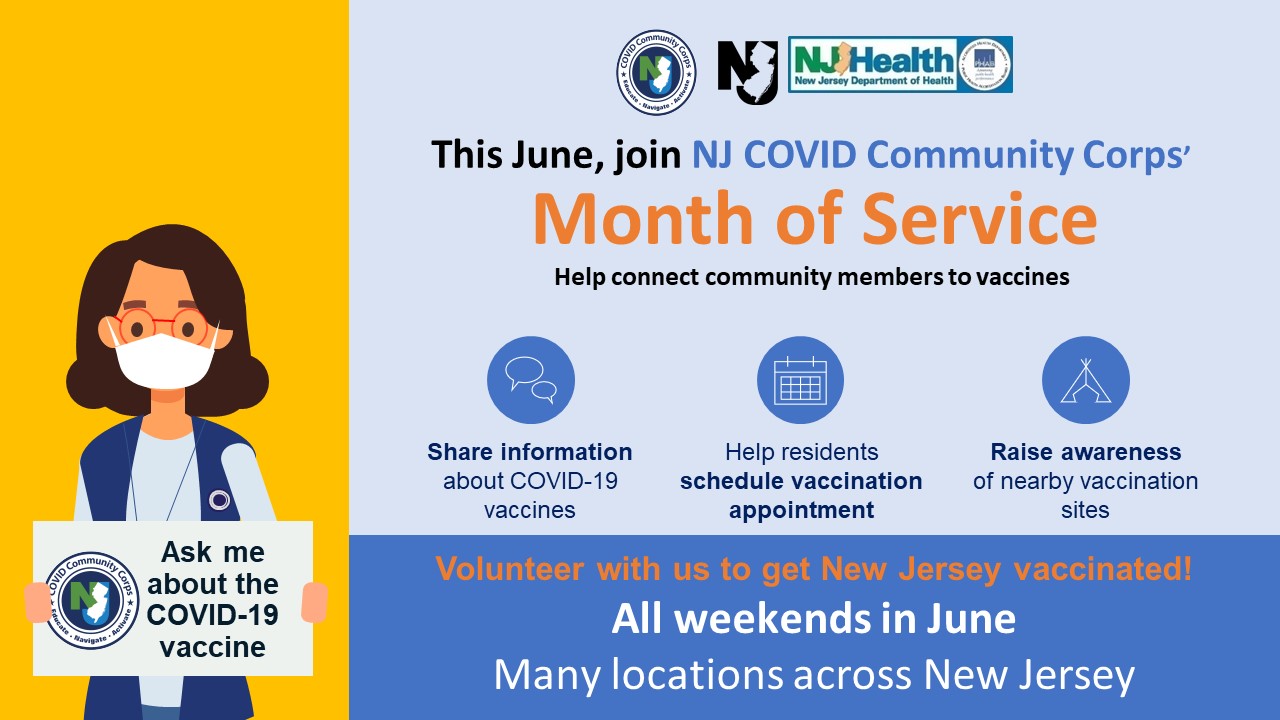 Join the NJ COVID Community Corps' Month of Service!
During the month of June, NJ COVID Community Corps (CCC) members will be conducting outreach to communities across New Jersey as part of the Month of Service. This in-person outreach will focus on raising awareness about local vaccination sites and helping residents schedule vaccine appointments in areas with low coverage.
We need your help to reach as many residents as possible! Your help connecting community members to vaccine will move us closer to the goal of having 70% of adults in New Jersey vaccinated by July 1st.
How can you help?
If you are not an existing NJ CCC member, please complete our online training so you can begin volunteering with us. The training takes about an hour to complete (note: You must be 18 years or older to sign up)
If you have already completed NJ CCC trainings, sign up to volunteer by completing this survey and watch out for our weekly emails with upcoming volunteer opportunities!
Why you should join the Community Corps
Keep family, friends, and neighbors informed and healthy in unprecedented times
Shape and change the response of your community towards COVID vaccination
Play a key role at a pivotal moment in the history of New Jersey
Receive and distribute official COVID-19 information from the state
NJ's CCC mission and outreach approach
NJ CCC's mission is to increase public confidence in and uptake of COVID-19 vaccines in underserved communities across New Jersey.
NJ's CCC has a three-prong outreach approach:
Education: Train trusted community members on COVID-19 disease burden, vaccine updates, and pathways to vaccine registration.
Navigation: Assist vulnerable populations (e.g., minority groups, underserved communities, limited English proficiency populations, and individuals with limited technology and/or low proficiency) with the vaccination process.
Activation: Reduce vaccine hesitancy among immigrant and minority populations through meaningful
community partnerships and localized virtual and physical outreach.
Search for COVID-19 and Reopening Information Here